Are you ready for some fun crafting time with friend?? Here's a thought!  If you haven't seen this GEM of a medley at 45% OFF, take a look now!  Creativity comes easy when you've got amazing coordinating products. The Everything Is Rosy Product Medley is a perfect example. Products in this medley are detailed in rose gold – just gorgeous! You'll love the happy, rosy feeling you get as you create with these fun and flowery  products. Imagine what you can create! Available now at 45% off!  You get everything you see in this photo, and what a BARGAIN:
The Medley includes ALL these exclusive products:
* Everything Is Rosy Photopolymer Stamp Set—18 stamps
* Everything Is Rosy Dies—10 dies
* 6″ x 6″ Designer Series Paper Stack—48 sheets; 8 each of 6 double-sided designs
* 6″ x 6″ rose gold foil paper—8 sheets
* Printed die cuts—2 sheets
* Rose gold die cuts—4 sheets; 2 each of 2 designs
* Rose gold adhesive backed mirror embellishments—60 embellishments; 1/4″
* Melon Mambo 1/4″ (6.4 mm) Ruched Ribbon—10 yards
* Night of Navy/Rose Gold 3/8″ (1 cm) Metallic –Edge Ribbon—10 yards
* Rose Gold Shimmer Paint—1/2 oz.
Here's the fun part:  If you and a friend order one, you can have a ZOOM stamping session together, have the same products to work with, give each other ideas, whatever works!  What a great way to spend some time virtually together.  It'll be like you're in the same room.  If you have questions about setting that up, I can HELP!
Here is the stamp set that comes with the medley — LOVE the sentiments!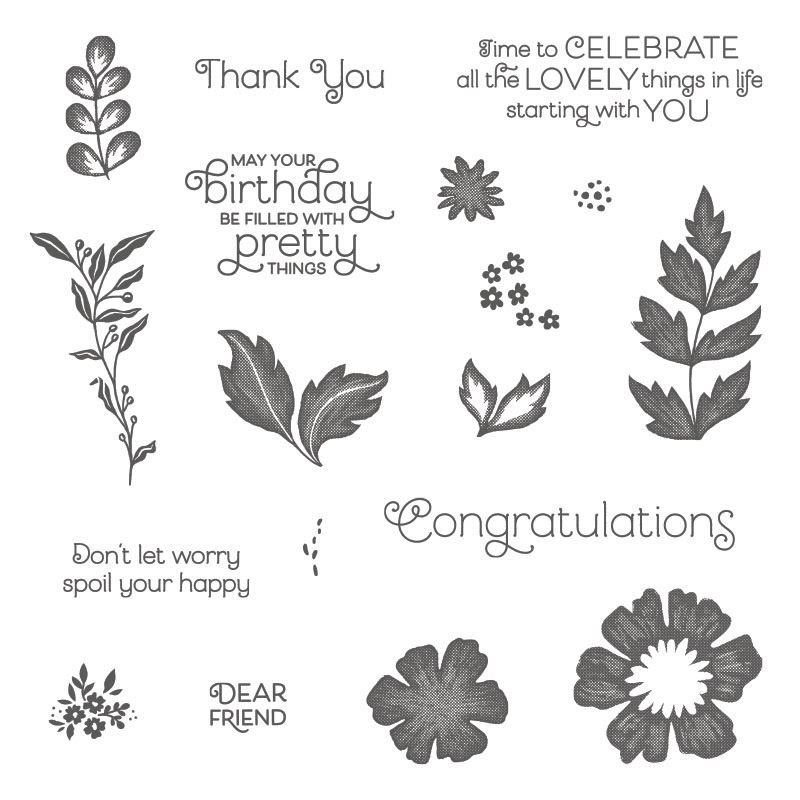 Some gorgeous samples from Stampin' Up Artisans:
Just think:  Order the medley and one ink pad or paper, and you've reached the $50 mark, and you receive a free ribbon of your choice directly from me!  Be sure to order using this Host Code Number, and I'll reach out to you:  K94UGH6E
OR Click below to order from my store!
Product List