I woke up this morning to lots of fabulous news from Stampin' Up! Check this out:
The Stampin' Up! Clearance Rack has been updated! I LOVE getting a great deal on products I already love! Just so you know — items do sell out, and many of these will go FAST! So get them while you can! Here's the link to go shop for Clearance! Some of the items are up to 60% off! LINK HERE!
We have a brand new month, and a brand new host code: Please use this HOST CODE: 3A99EW6T when making an online order of over $50 with me, and you will receive a FREE GIFT from the new Mini Catalog from me!
2. Stampin' UP! just announced a great promotion for anyone interested in becoming a demonstrator.  Our starter kit is just $99 and you can customize your kit with $125 worth of merchandise that you choose.  But that's not all!!!  New demonstrators will also receive enough cardstock pieces to make 16 cards, a pack of Rhinestone Basic Jewels, the So Much Love stamp set, and the Queen Anne's Lace stamp set.  This is a fabulous deal!!! 
3. The new Stampin' Cut & Emboss Machine (standard only) is now available for purchase.  I have heard nothing but great things about it, and I can't wait to get mine! It cuts like butter! You can also add the machine to a starter kit (see above) which is incredible.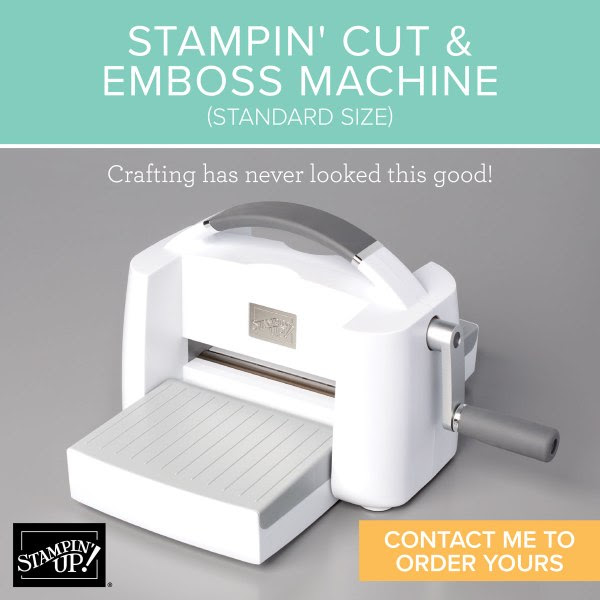 Starting TODAY! September 1, 2020, the STANDARD Stampin' Cut & Emboss Machine (Item 149653, $120), along with the optional Magnetic Platform (Item 149656, $24) are available for customer purchase!   You can read all about the new machine's benefits and must-have features here. 
So what sets the Stampin' Cut & Emboss machines apart from the rest? Here are some favorite features:
Durable machine with high-quality results.  Solid steel construction frame and rubber feet.  Produces crisp, clean, precise cutting and beautifully detailed embossing.
Easy to use. The machine and tools are designed for an intuitive die-cutting and embossing experience. For example, all plates are labeled with a number and are color-coded for easy reference and use when building your sandwich.  And just like the name suggests, Stampin' Up! Magnetic Cutting Plates have fully-magnetic surfaces to make it easy to securely position your dies and keep them in place.
Simple to store. The platform folds for space-saving storage and the clean design suits any crafting space.
Portable. You can use the machine on the go with its folding platform and ergonomic carrying handle.  Great for those who like to attend crops or other crafting get-togethers.
Click HERE to see a great video on this new product!
TIP:  YOU CAN ADD THE NEW STAMPIN' CUT & EMBOSS MACHINE (OR YOUR CHOICE OF UP TO $125 IN PRODUCTS) TO A $99 STARTER KIT.  YOU'LL SAVE UP TO $26 PLUS RECEIVE THE GET & GO FREE BONUS PRODUCTS!   THE KIT SHIPS FREE!
Just email or call me for more details, or if you have any questions! Email me here!
Woohoo! What a Month!!